Safe - protection individuals and legal entities Kyiv
Security company Opti Safe - a guarantee of security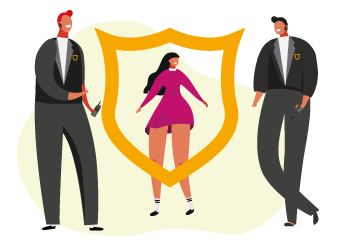 Opti Safe is more than a security company. This is a collaboration of specialists and experts, united by one goal - to ensure the safety of their clients. We achieve high efficiency thanks to the professionalism and experience of our employees, as well as through the introduction of innovative approaches. Opti Safe's activities include physical protection of private and public property, provision of private security services, organization of rapid response, installation of fire and burglar alarms and video surveillance systems.
Popular company services:
Apartment security. The service combines three areas: protection against intrusions and protection against attacks from fires, leaks and leaks, prompt departure of the response team. The main element is a wireless security system combined with a security panel.
Home safety. The company's engineers install motion sensors and install elements of the video surveillance system, so that the entire perimeter of the territory is under constant control.
Store security. The service includes the installation of an alarm, a panic button, as well as the organization of comprehensive protection. The company works only on licensed devices.
Warehouse security. Opti Safe specialists will conduct a detailed audit to identify vulnerabilities in the facility's security system, suggesting reliable options for their elimination.
Office security. All equipment used in the security system is easily integrated with mobile devices and is covered by a warranty.
Video surveillance systems / access control systems. Installed in all types of residential and non-residential premises, as well as outside protected facilities. A multifunctional control system helps to improve collective discipline.
Physical security. Opti Safe employees have been carefully selected and specially trained and have a high level of stress resistance. They are well equipped and work closely with rapid response teams.
Opti Safe LLC was created as a result of the merger of three successful companies: Opti Group of Companies, Max Bezpeka LLC and Kononchuk and Partners Chancellery. The organization's activities are licensed and certified.
Opti Safe benefits
Years of experience in the security industry
Loyal tariff policy, promotional offers, discounts
Highly qualified employees of all levels
Effective interaction with law enforcement agencies
Guaranteed confidentiality
Strong legal support
Powerful material and technical base
Security company Opti Safe is a reliable partner with whom you can trust the safety of your family, home and business.
Answers to frequently asked questions
Can I arrange a delivery service with you?
Yes, we can arrange delivery from your facility to the customer. It can be much more profitable than the delivery of foreign companies.
Why connect a corporate account?
You will have a full report on expenses, you will be able to enter these expenses in accounting, and you will receive priority in the delivery of cars.
After the order is fulfilled, funds are debited from the balance.
What information can I get in the report?
The report contains a list of trips with date, time, route, vehicle number and model, as well as waiting time and distance.
The report is provided once a month.
How to order a taxi through Opti 579?
You can order a taxi online on our website, through a mobile application or by calling us on the phone.